How do you like your eggs in the morning?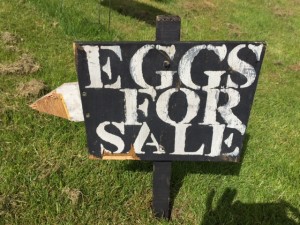 Oh, Dean Martin, oh lovely hens. Where would we be without having a simple egg on the breakfast menu. Here's how to make the perfect egg for breakfast and all perfected by hosts at Cotswold Village Rooms!
Buttery scrambled eggs – serves 2
4 large free-range eggs
30g/1 oz unsalted butter
2 tablespoons double cream
Freshly ground salt and pepper
Get rich and gorgeous tasting scrambled eggs with lots of butter and include some cream. Break eggs into a bowl and whisk gently. Add butter in a non-stick pan over medium heat and swirl it around a bit to coat the bottom and sides. Pour eggs in pan and stir gently for 1 ½ – 2 minutes or until the eggs are almost cooked and thickened. Add the cream and seasoning, stir briefly. Take off heat and serve immediately on warmed plates with a sprig of flat-leaf parsley on top, hot buttered toast, bacon, or whatever you fancy.
Poached eggs – serves 2 or 4
4 large free-range eggs
1 tablespoon white wine vinegar
Place pan over medium heat and add a few inches of water. Add the white wine vinegar and bring to a gentle simmer. Break an egg into a cup and slide into the hot water. Repeat with the other three eggs. Cook for 4 minutes for a soft, runny yolk but cook slightly longer for a firmer yolk. Remove with a slotted spoon to drain and place on well-warmed plate, unadorned, or be creative with a "the works" for breakfast.
Soft boiled eggs – serves 2 or 4
4 large free-range eggs at room temperature
Boil enough water to cover eggs in a small pan. Lower the eggs, one by one into the pan. Cook for 4 ½ minutes (helpful to use a timer) for a soft oozing yolk. Remove and place in favourite egg cup with some warm buttered toast soldiers and serve.
Fried eggs – serves 2 or 4
4 large free-range eggs
4 tablespoons vegetable oil
Place large non-stick frying pan over quite high heat and add the oil. When oil is hot, crack open the eggs in the pan and turn heat down to medium. Cook for 2-2 ½ minutes gently basting the yolk and whites of the eggs with the oil as they cook. The edges should be crispy and the yolks will be runny but set around the edges. Carefully remove with a flat spatula and let any oil drain before placing on a warm plate. Rather nice with a serving of bubble and squeak at breakfast!