Number One, Fulbrook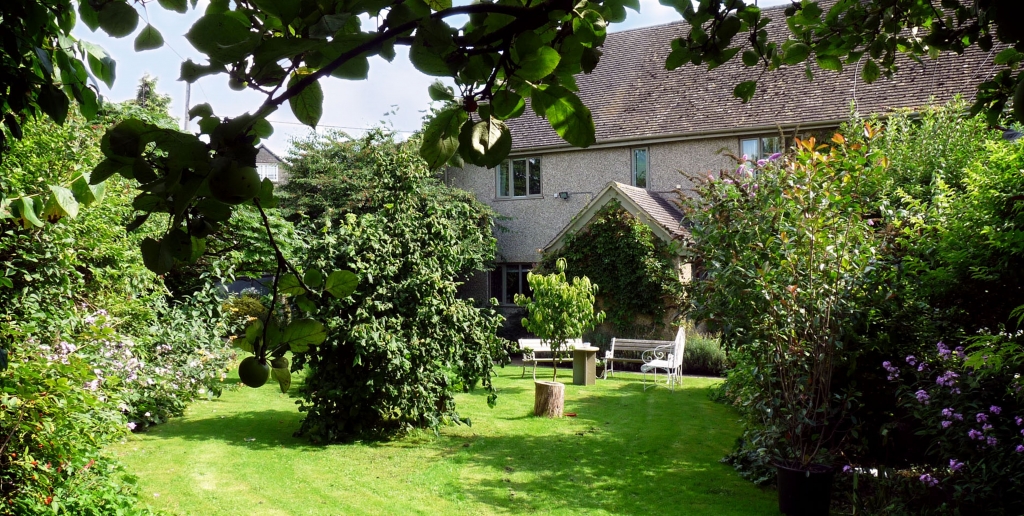 The Accommodation
Number One in Fulbrook is a perfect village hide-away for a bed and breakfast stay. Within easy walking distance of Burford's medieval main street it sits sideways, set back from the road running through to the village of Shipton under Wychwood and further out to Chipping Norton.
Attached to Jilly's cottage, up a short flight of wide wooden steps with handrails both sides, and with its own entrance, Number One offers lovely, restful accommodation for two people that's completely private and self-contained.
The cosy room has a comfortable king sized bed, tucked under a pitched roof, with extra covers provided for chilly nights and spotless shower room with thick white towels, dressing gowns and underfloor heating.
A range of teas, coffees and biscuits are set out and topped up each day with a small fridge tucked away with fresh milk, yogurts and water. A continental style breakfast tray is laid out with fruity muesli, cereals and bowl of fresh fruit.
Outside, there's a cottage garden where guests may relax and mull over the day. Colourful, with all sorts of pots and scented shrubs in spring and summer, it's a magnet for wild birds and a visiting cat.
Jilly moved to the Cotswolds from London nine years ago, loves living in Fulbrook and is delighted to help guests find all sorts of treasures and delights during a stay in the Cotswolds. Number One is a great base to make the most of umpteen places to visit and memorable places to eat out, and all pretty much on the doorstep.
At a Glance
Own entrance * self-contained * king sized double bed * wardrobe & chest of drawers * colour television * Wifi * ipod doc * breakfast tray with yogurts, cereals and fruit * tea & coffee making facilities * mini fridge * luxury ensuite shower room * use of garden * private parking * easy walking distance to Burford *
The Village and Location
The village of Fulbrook lies close to the beautiful medieval town of Burford with the river Windrush separating the two.
Walking from one end of the village to the other, with old stone and more modern properties both sides, one distinct part of the village is based around the Norman Church, St James the Great. The churchyard has an English yew that's reputed to be over 1000 years of age. Look out also for the "green man" carved in wood on the roof.
There are some lovely, gentle walks to explore around the village. In spring and early summer the village lanes, trees, and hedgerows burst into life with all kinds of blossom and honeyed scents. There is a mixture of arable and livestock farming around the area with cattle, sheep and horses grazing in some of the fields that surround Fulbrook. Also, the sight of golden wheat, barley, yellow oilseed-rape, blue flowering flax and sometimes fields of poppies make a memorable journey when out walking and rambling or travelling by car between villages and market towns.
Step back in time for a moment and if you travel out on the road from the village going towards Shipton-under-Wychwood, at the top of the hill, in a field on the right, there is what remains of the Gibbet Tree where two of the notorious Fulbrook Highwaymen, the Dunsdon Brothers, stopped horses and carriages in order to steal and generally cause mayhem. They were gibbeted at the tree in 1784. Today, in more peaceful times, travellers may be held up by a pheasant or hedgehog crossing the road.
Eating Out Nearby
Fulbrook is in a great position for eating out with all sorts of historic pubs and restaurants in Burford within walking distance or by car. Or head out to some of the nearby village pubs and enjoy some great food in lovely surroundings. Some places to try include:
The Maytime Inn at Asthall
Rose & Crown in Shilton
The Feathered Nest in Nether Westcote
Afternoon tea at Huffkins Tea Shop in Burford
Do let your Cotswold Village Rooms host know if you have found a perfect place to wine and dine.
Village Perfect For
Meeting a family of Meercats at the Cotswold Wildlife Park
Visiting Lodge Park, 17th century grandstand near Aldsworth and country estate of Sherbornewww.nationaltrust.org.uk
Sitting by the River Windrush with a picnic and book
Visiting the atmospheric ruins at Minster Lovell
Downloading a walking map from Cotswolds AONBwww.cotswoldsaonb.org.uk
Heading out to the lovely villages of Taynton and the Barringtons
Checking out the gorgeous architecture in Burford