Foxhill Manor Hotel, Farncombe Estate near Broadway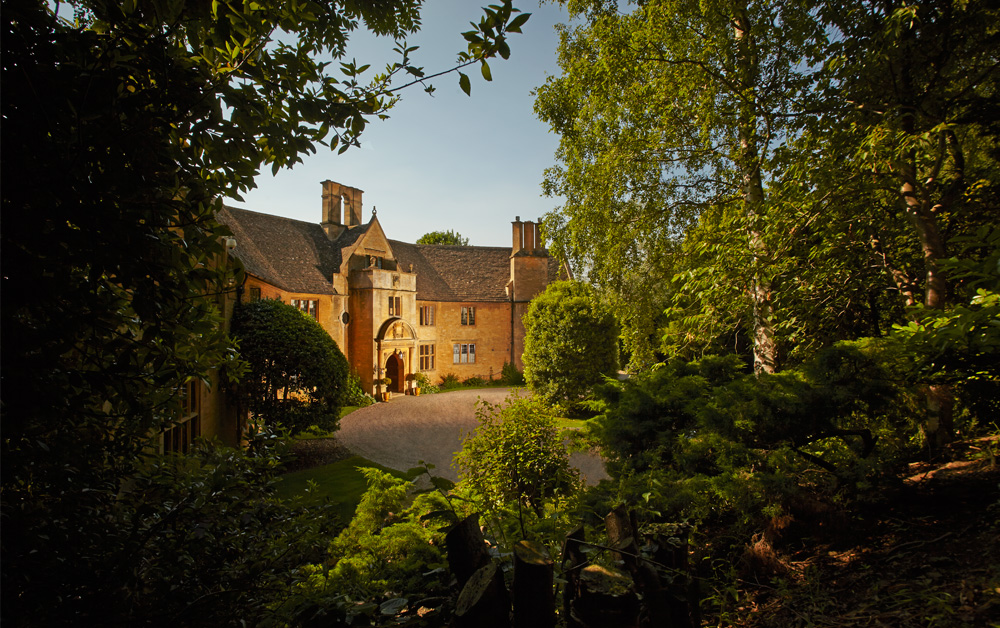 The Accommodation
Foxhill Manor is a private house hotel tucked deep in a wooded dip on the fabulous Farncombe Estate, near Broadway. Foxhill Manor has that special knack for making guests feel like they have just arrived back home. And what a place to call home!
With eight, stunning rooms and suites, some the size of small apartments, it's all about privacy, comfort, and space to do whatever takes your fancy. Warm, fabulous and personal, there are no house rules or set menus at Foxhill Manor. Guests choose what to have for breakfast and other meals at whatever time suits. Whether it's eating in the dining room, or out on the terraced garden looking out across the Estate, or dining in your room, the friendly team are on hand to make it happen.
Ingredients are sourced from around the Cotswolds and dishes are prepared with passion and care and guided by the seasons by the head chef. If guests feel inclined to head out, its sister hotels, Dormy House and The Fish are close by, both with a choice of award-wining restaurants.
Delightfully, there's even a pantry stocked with jelly beans, cashews, homemade cakes, drinks and fresh fruit for guests to raid at anytime. Treats and beds are also part of the service for canine guests as Foxhill Manor is a dog-friendly place to stay.
There's a sound-proofed screening room with bean bags, armchairs and nearby drinks tray to relax with a favourite classic or new art-house film.  And if guests feel like being massaged, buffed-up and generally toned, Dormy House Spa is just up the lane with thick towels and slippers waiting.
This is just the place for an exclusive wedding or special event with a ballroom to boot which overlooks terraced gardens and long distance views across the honeyed countryside.
Surrounded by 400 gorgeous acres, and with a series of walking maps, there's lots to explore. A comfortable Range Rover is always close by with driver to zip guests to and from the lovely Cotswold village of Broadway.
All, just utterly lovely!
Village and Location
The family-owned Farncombe Estate sits in its own sweeping parkland setting in the Cotswolds with fabulous views overlooking the Vale of Evesham.
Just over a mile from Farncombe Estate is Broadway, an elegant village with bags of history. A lovely wide main street runs through with fine medieval stone houses that appear to glow in the sunshine, grassy verges and greens, horses grazing in fields, independent shops, and all kinds of places to stop and be revived.
Drawn by its natural light and beauty, Broadway has been home to quite a few artists and writers over the years including Elgar, John Singer Sargeant, J.M Barrie, Vaughan Williams and the American artist and writer Francis Davis Millet, who died in the sinking of the Titanic. In 1932 his son donated a sum of money for the lychgates to be built at the ancient St Eadburgha's church in Broadway, in memory of his father – look up on its beams for a Latin inscription.
While here do take some time to visit the Ashmolean Museum which is based in Tudor House, a former 17th century coaching inn; and take off half-way down the main street by the Lygon Arms to visit the Gordon Russell Museum to see the work of the 20th century furniture maker.
For walkers, Broadway Hill overlooks the village and is the highest point in the northern Cotswolds and part of the Cotswold Way. Climb the 20m high Broadway Tower which sits on a hilltop site in the Broadway Country Park and take in some fabulous views. Not far also, at the other end of the village, take the road up to Snowshill Manor and Garden, a unique National Trust property with plenty of quirkiness and character.
Venture out (if you must) from Foxhill Manor to:
Bourton on the Water 30 mins
Burford 40 mins
Cheltenham 35 mins
Chipping Campden 10 mins
Kingham 30 mins
Stow on the Wold 20 mins
Stratford upon Avon 30 mins
With masses of villages all around