Kelmscott Country Pork
Christopher Maughan has been a farmer in the Cotswolds all his life. Christopher and his wife, Ellie, made Home Farm, a lovely Georgian farmhouse in the peaceful hamlet of Kelmscott, in Gloucestershire, their home to bring up their family of four and develop their award-winning Kelmscott Country Pork.
The fantastic flavour and quality of bacon and sausages for breakfast makes Kelmscott Country Pork stand out. This is down to the care and attention paid to all the pigs and the Maughans' dedication to providing a traditional and personal service for all their customers.
Christopher is passionate about the welfare of all their pigs – all have the freedom to be out in the fresh air, with plenty of space and cover. It's a small team at Home Farm with Christopher, Ellie and Andrew James who oversees the preparation, packaging and delivery to restaurants, hotels, local pubs and village shops in the Cotswolds and further afield. Local part-timers help out on busy delivery days.
It's not all about a full English breakfast, although staying at Cotswold Village Rooms we are pretty partial to it. There's lots of choice for lunch and supper with eight flavours of sausages including country herbs, apple, sweet red onion, and mustard. Tender bacon and hams are cured using a special recipe handed down from farming parents and grandparents. New flavours are tried and tested including fennel flavoured and other salami, wafer thin prosciutto ham and spicy Kelmscott chorizo. We love them all!
To buy direct from Kelmscott Country Pork do call or email Christopher and Ellie to receive a list of the full range of products and to check what's available. Do mention that you heard about them from Cotswold Village Rooms!
Kelmscott Country Pork
Home Farm
Kelmscott
Gloucestershire
GL7 3HD
T: 01367 252220
E: cmaughan@supanet.com
Recipe for Caramelized Onion & Sausage Frittata
Ingredients: Serves 4
1 large white onion, caramelized (see below), 1 tablespoon olive oil, rock salt & pepper, 4 Kelmscott Country Pork sausages, 1 large potato, 3 eggs, 5 egg whites, tablespoon of milk, 2 ounces mature cheddar (or other preferred) cheese grated
What to do:
1.To caramelize onion: Thinly slice the onion. Heat olive oil in a large pan over medium high heat. Add the onion, season with a little salt & pepper to taste, stir to coat with olive oil. Continue to sauté, stirring occasionally until the onions are dark brown, half an hour to an hour, depending on the heat. The slower the onions are cooked, the more flavour. 2. Place sausages on a baking tray. Bake in oven at 375 degrees for 20 minutes, shaking and turning half way through. Allow to cool slightly, then slice into bite-sized chunks. 3. While cooking, thinly slice potato. In a large frying pan with some oil, sauté the potatoes slices in a single layer over high heat. Season with salt & pepper. Cook each side until the potato slices are golden brown and quite crisp. 4. Rub a medium sized pie dish with some oil. Lay the potato slices across the bottom of the dish, overlapping if needed. Top the potatoes with the caramelized onion and sausage. 5. In a large bowl, whisk together eggs, egg whites, a little milk, another twist of salt and black pepper. Pour egg mixture into the prepared pie dish. 6. Bake in oven at 350 degrees for 30 minutes, then top with grated cheese, and bake five minutes more. Allow to cool slightly before slicing and serving.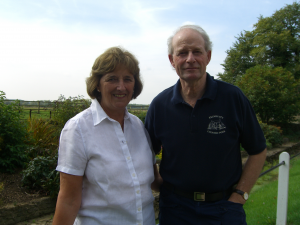 Christopher & Ellie Maughan