The Barn – Downington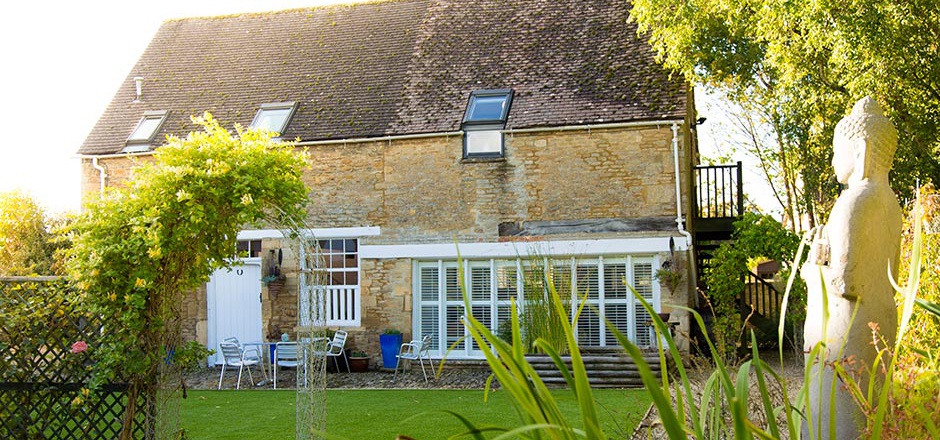 The Barn
What a lovely find and perfect place to stay! The Barn is neatly and privately tucked in the grounds of Grade 11 listed, Bridge House, just a hop and skip to the market place of Lechlade and almost within sight of the River Thames.
Beautifully converted with exposed beams, and huge windows overlooking the garden, The Barn, a  holiday cottage near Lechlade offers a spacious and comfortable self-catering accommodation and home in the Cotswolds for up to six people. Ideal for families, a group of friends, or a couple wanting a bit of extra space.
There are lovely touches at this village property, inside and out. Depending on arrival time guests can expect a welcome tray of home-made goodies – possibly oat and raisin or white chocolate cookies or lemon drizzle cake. Tempting bags of truffles hang on bedroom door handles.
On the ground floor is a light and modern sitting room with large flat-screen television, DVD and iPod dock. Next door is a light, well-equipped open-plan kitchen with dining area.
Up a short flight of wooden steps, there are 2 bedrooms where guests can expect sumptuous robes and towels and crisp laundry. There is a large family bedroom which has a king-size bed along with two single beds and a double bedroom. There is a shower room with wc and washbasin with beautiful soaps, hand-made especially for The Barn using all natural ingredients supplied by Landsdowne Originals, based in the Cotswolds.
Outside, under cover of a refurbished open barn, strung with atmospheric lights at night, there is table tennis, table football and a dart board. There is a large safety netted trampoline at the bottom of the garden and bikes suitable for most ages are available for exploring the countryside. There is a small well-equipped gym in a converted gate-house for guests to use when they wish or personal training is available.
Nothing is too much trouble and everything is possible. Welcoming and friendly owner, Deborah, with a background in art, fashion and fitness, is delighted to organise luxury bespoke breaks for pampering, styling, fitness, or any new experiences for guests – making it just perfect for a memorable stay!
The Village and Location
Downington is an area within half a mile of the market town of Lechlade. The road runs through to Cirencester one way and to Burford the other with a mixture of new and older village properties along the way. Because of its location near the stretch of the Thames it can be a busy place for traffic getting to places.
The market place in Lechlade is close to the lovely fifteenth-century church of St Lawrence. In 1815 the poet Percy Bysshe Shelley visited and wrote the poem "A Summer Evening Churchyard" at this very place. The peaceful path leading off from the market place through the graveyard is named after him – "Shelley's Walk".
There's a great deal of history around these parts. Over the years archeologists have uncovered evidence of a settlement here dating back to 2500BC and an excavation revealed a Saxon burial ground dating between 500AD and 700AD. The various artefacts that were found are now displayed in the Corinium Museum in Cirencester.
Downington is a perfect place to head off in all sorts of directions. Some lovely villages are all around off the main road – take off down meandering lanes and explore.
Eating Out Nearby
There are a number of great pubs and restaurants within easy reach by car.