The Five Alls at Filkins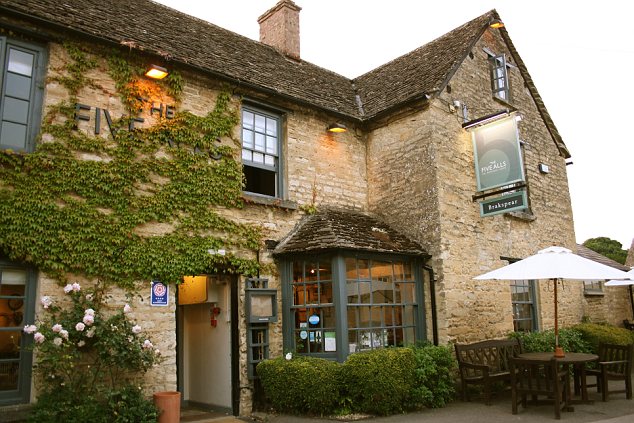 The Accommodation
Arriving at The Five Alls in Filkins is rather like meeting up with a special friend. Comfortable, friendly, stylish and fun pretty much describes this Cotswold stone village pub with rooms.
One of its delights is a fabulous award-winning restaurant set out in a number of dining areas with chef Sebastian and partner Lana Snow at its helm along with four lovely bedrooms, all en-suite, each designed with relaxation and comfort in mind, a buzzing bar for locals and guests and an outdoor garden with space to relax under large cream canvas sun-shades with a chilled glass of something, or some local brew, or whatever takes your fancy.
The Five Alls is charming through and through set on the village lane with car parking alongside. Arrive for lunch or evening meal you are likely to be steered to one of its comfy sofas to mull over the menu with a glass and nibbles in hand. Open log fires blaze, contemporary art hang from most walls, lanterns glow inside and out, and engaging staff are on hand to guide the guest through the changing, seasonal menu. All produce is tip-top fresh and locally sourced as much as possible, and the wine list is chosen carefully to compliment everything.
Staying for breakfast is a treat with a comforting selection of fresh juices, local jams, freshly baked croissants, muffins, or cooked full English. Staying here is a delight and after breakfast a gentle wander through the village is just the ticket before venturing further perhaps to medieval market town, Burford, or one of many small villages clustered around and about such as Eastleach, the Barringtons, near-by Broadwell, or Kelmscott to visit the home of William Morris, before heading home or onwards on your travels.
The Village and Location
The honey stone village of Filkins lies just off the main route from the market town Burford to Lechlade. With a 1930s open air pool, a community village shop run by volunteers, a bowls club, a village hall, Victorian church, produce show and a number of annual events – it's a thriving little village.
Unusual Cotswold stone slabs edge some village properties crafted many years ago by local stonemason, George Swinford. A lane meanders through the village to Broughton Poggs with many interesting properties large and small including, at one end, the private estate of Filkins Hall with a fine Georgian coach house complete with large clock and bell built by architect Richard Pace in 1810 and whose trade card appears in the Bodleian library. Secluded and peaceful St Peters church is tucked away near Broughton Hall in Broughton Poggs and worth searching out.
A scatter of stone buildings in the village is home to the Cotswold Woollen Weavers – a lovely place to stop, find out about the Cotswolds historic woollen trade, shop, or sit in the café or throw down a rug and have a picnic in the orchard. Further down there's a little museum with all manner of interesting local artefacts and next to an uncomfortably small stone lock-up with iron bars on the heavy door for those who misbehaved. Gardens in the village are open at certain times of the year on behalf of the National Gardens Scheme www.ngs.org.uk Also do check the Filkins village website www.filkins.org.uk